Regular price
Sale price
$3.19 USD
Unit price
per
Sale
Sold out
I acknowledge that I own the right, have a license, or have permission to use the files uploaded, and that I have followed the print/contour cut guidelines referenced below. A production delay may occur if conditions are not followed.
Share
If you don't already have print-ready art, Click here for a Free, No Commitment Quote from one of our talented designers.
Print Guidelines

We strongly recommend that files uploaded to Alwan Wraps follow these guidelines:

Art must be 1" less than width of selected media

 

(ex. For 60" media, art files should not exceed a 59" width. This is to insure that art is not affected during the trimming process.
File size should not exceed 1 GB.
Generally, 72 PPI

 

at

 

1:1 ratio (or 100%)

 

is a good standard for large format prints. Content that does not meet this standard may experience print images that are fuzzy, pixelated or otherwise distorted for which Alwan Wraps does not accept any responsibility.
Designed in CMYK with no embedded color profile. You may upload in RGB or some other standard if you choose, however, the color will be converted to CMYK and Alwan Wraps is not responsible for any inaccuracy or color shift that occurs as a result of the conversion.
When submitting vector files, please be sure to

 

convert all fonts to outlines, curves, or paths.
Artboard should contain whole image. If an image extends past the artboard, the file will only import the portion of your image contained within the artboard. Do not include excess white space.
Acceptable file formats for printing: PDF, PSD/PSB, TIFF, JPEG, TIFF, PNG, AI. (Note: Each file type has different qualities and limitations that make them suitable for specific jobs.)
Files should be ready to print as-is, with the exception of scaling due to file size limitations. If a job needs to be scaled, it MUST be noted in the comments section of your order.
IMPORTANT: If you are unsure of whether or not your file is print-ready, please contact our design team before submitting a print order. Alwan Wraps can not be held responsible for pixelated images due to improper sizing/resolution of the file provided. When submitting your print order, the file is automatically added to our print queue, and may not be forwarded to the design team for review.

We reserve the right to reject content that does not meet this standard, but we do not assume any obligation to verify that the content meets this criteria.
Contour Cut Requirements

File should be supplied in AI, EPS, SVG, or PDF format with vector contour lines.
IMPORTANT: Contour lines must be assigned as a Spot Color named 'CutContour'.

View More Information

To assign a spot color using Adobe Illustrator:

Open the Swatches Palette. If the Swatches Palette is not readily visible, you may need to open it by selecting Swatches from the Windows menu.
Click the 3 horizontal lines in the upper right corner of the Palette, and select New Swatch. This opens the New Swatch dialog.
Enter CutContour as the name of the new swatch. This needs to be spelled exactly as shown here.
Select Spot Color from the Color Type drop-down menu, and use the slider bars to create a color. The color is not important since it will not be printed.
Click OK to close the dialogs.
Select your cut paths and assign your new swatch color to those paths.

---

Note: You may use any vector-based drawing program you want. These instructions are specific to Adobe Illustrator. Most drawing programs will follow a similar process. If you have trouble, see the Help Files in your drawing program.

Contour lines and print image must be supplied in the same file.
Contour files must be at least 2" less than width of print media.
Opacity of CutContour lines MUST be at 100%.
DO NOT hide the CutContour layer or turn off the option to print.

Taking these steps allows us to seamlessly assign your CutContour lines. If followed correctly, the CutContour lines will NOT print. Failure to follow guidelines may result in delayed processing time.

---

PNG file types with transparent backgrounds are acceptable, but not recommended. Please be aware that PNG files work in a RGB colorspace, and WILL be converted to CMYK when sent to print. We are not responsible for any inaccuracy or color shift that occurs as a result of the conversion.
Calculating Square Footage

A calculator is provided within each product page to assist you.

Select the appropriate product width to accommodate the size of your files. Keep in mind that we request your art be 1" less than the width of the media selected (Note: Not all products are available in various widths).
In inches, enter the length of your file(s) (minimum 12") into the "Length" box, and ensure that the "Width" box contains the full width of the print media selected. Calculations are based on the total square footage of media used to print your project.

CALCULATION EXAMPLE

A customer with a 36"W x 72"H graphic selects a 48" width Print Media. The customer would enter the total length of their file (72) into the "length" box, and input the appropriate width of the print media selected (48, 54, or 60) into the "width" box. The calculated square footage of 24 square feet will display below.
Media Specs

Alwan Wraps offers the highest quality professional printing using state-of-the-art Eco-Solvent Ink printers. 

Avery Dennison HP MPI 2611 Wall Film is a tough, scuff-resistant, flexible, white premium calendered vinyl film designed specifically for wall graphics applications. This Avery wall film offers an excellent choice for wall graphics applications that require easy installation and removable adhesive performance.

Features

100% opacity, completely covers whatever is underneath
Matte finish
6 mil, white calendered with clear removable acrylic adhesive
Great image clarity and color pop
Dimensionally stable liner for easy converting
ASTM E84 Class 1 or A rating
MPI 2611 meets the requirements of IMO FTP Code Part 2 & 5 for all material categories
Commonly used for wall murals, POP/ Tradeshows
Up to 4-7 year durability
Clean removal for up to 1 year

Notes & Recommendations

Alwan recommends laminating with DOL 3070 or 3080

Warning: Combining different manufacturer materials for printing and laminating voids manufacturer's warranty.

Note: Neither Alwan Wraps nor Avery Dennison® warrants damage to the interior wall surface caused by removing film even if a removable adhesive was used. Removing a graphic can cause damage to the wall. Due to the variety of wall surfaces, Avery Dennison® cannot guarantee damage-free removal. The amount of damage can be reduced or eliminated by following the inspection, cleaning, and preparation guidelines provided in Avery Instructional Bulletin #6.50.
Use the calculator below to determine the square footage needed for your project.
The square footage should reflect the width of the selected media by the length of your submitted art file. The entire selected media width must be calculated. A delay may occur as a result of incorrect square footage.
Calculator placeholder
Buy more, save more!
| Minimum Qty | Discount Amount | Discount Code |
| --- | --- | --- |
| 100+ | 3% off | ALWAN3 |
| 300+ | 5% off | ALWAN5 |
| 500+ | 7% off | ALWAN7 |
| 1000+ | 10% off | ALWAN10 |
| 1500+ | 14% off | ALWAN14 |
View full details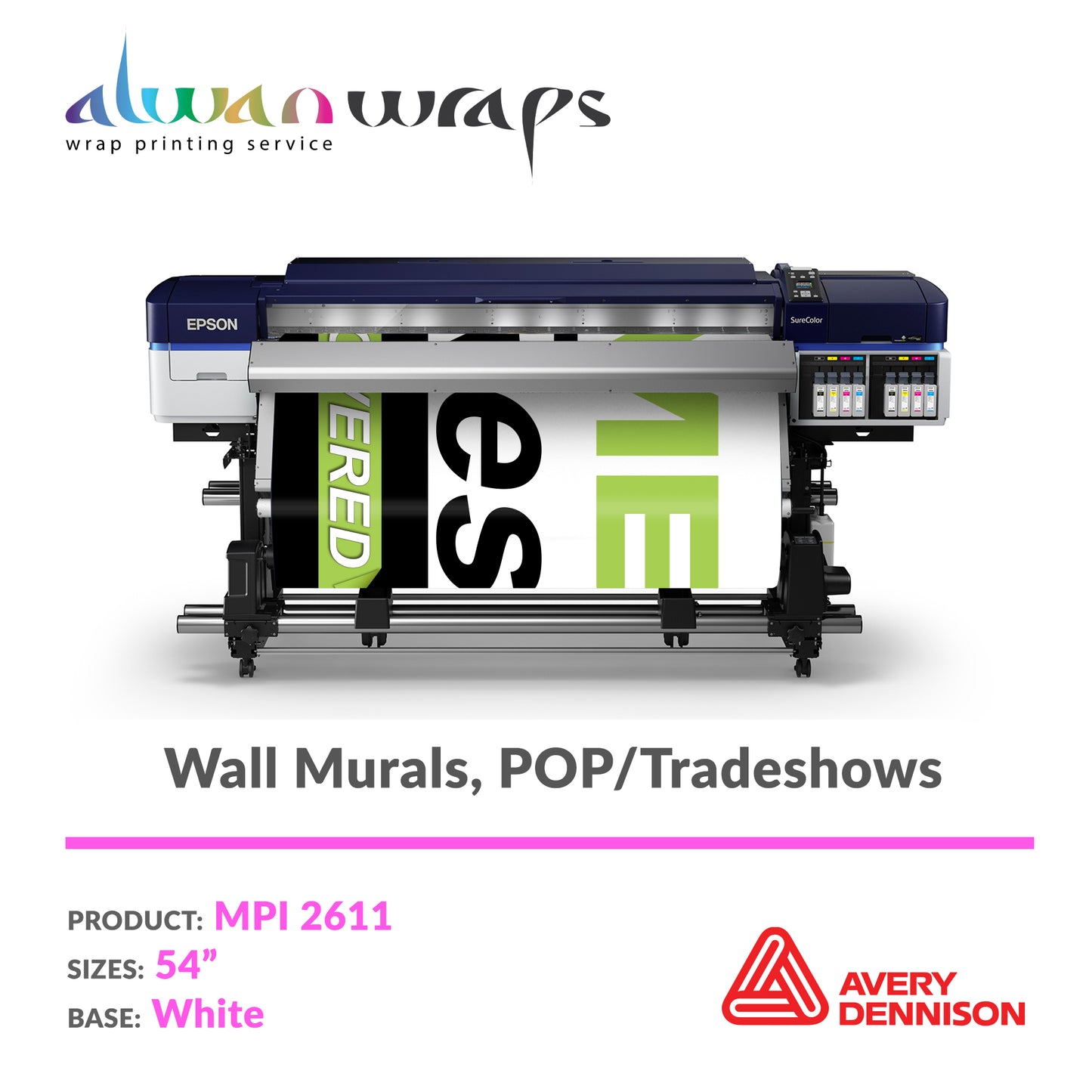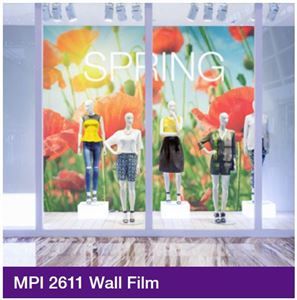 Worked for COVID signage
Great for COVID signage! Had to order some film that contained COVID safety precautions earlier in the year. Has held up ever since
Turned out great
Looks great. Extremely easy to apply. Fast shipping and great customer service on Alwan's part
Super easy to work with
Love the film! Super easy to work with
Shipping was delayed
Shipping was a little delayed due to FedEx. No problems with Alwan's wall film though
Awesome film
Used this film for my son's baseball team. Awesome film, great product